Welcome on AMAZONA's website
"We do not inherit the earth from our ancestors; we borrow it from our children." (Antoine de Saint-Exupéry)
Driven by this motto, AMAZONA manages the study and the protection of birds in Guadeloupe. Founded in 1998, the association now boasts more than a hundred members. All year round AMAZONA studies birds with the aim to be able to better protect them, particularly by following the migration of waders, counting white-bellied martins and observing migratory warblers. Each year somewhere between 1000 and 2000 birds are banded and also posters and pamphlets are produced with the aim of providing education about the environment to schools and to the general public. Additionally, AMAZONA is the principal organiser in Guadeloupe of the Festival of Birds Endemic to the Caribbean and also the Festival of Migratory Birds.

Nouveauté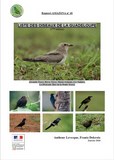 Téléchargez la liste des oiseaux de la Guadeloupe, édition 2016.
Les changements principaux:
Ajout des 2 nouvelles espèces vues en 2015 (Glaréole à collier, Guifette leucoptère)
Mise à jour du nombre de données de certaines espèces
Mise à jour de certains noms latins: Le Puffin majeur devient Ardenna gravis, et le Puffin fuligineux devient Ardenna grisea.
Séparation non passereaux / passereaux
Séparation Larinae / Sterninae (sous-familles des Laridae)
Les espèces sont classées selon la systématique proposée par Clements, version v2015.

Le Pigeon à couronne blanche en Guadeloupe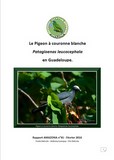 Le Pigeon à couronne blanche est, depuis l'an dernier, en phase d'installation active sur notre île. Par ailleurs, il a été classé en annexe 3 de la convention de Carthagène et est considéré comme "en danger" en Guadeloupe selon l'UICN. Pour ces différentes raisons, AMAZONA a décidé de faire un état des connaissances sur cette espèce dans notre département et demande la mise en place de mesures de gestion afin que son installation soit une réussite et sa présence durable.

Production de 3 minis films animaliers
L'association Caribaea Initiative (
www.caribaea.org
) qui a pour objet de "Développer la recherche et la formation supérieure sur la biodiversité et la gestion des populations animales dans les Caraïbes", nous a demandé de produire des minis films animaliers. Voici les trois premiers de la série sur les oiseaux des jardins, sur le Pic de la Guadeloupe et enfin sur la migration des limicoles. Ils ont été réalisés par Franck Decluzet, avec la supervision scientifique d'Anthony Levesque (AMAZONA).


List of birds of Guadeloupe
Download the list updated in april 2015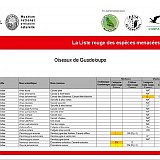 The IUCN red list of threatened birds in Guadeloupe

Figures on birds of Guadeloupe
Birds
278 species recorded (most recent addition: Collared Pratincole Glareola pratincola, 10/02/15 (AL))
80 breeding species
1 endemic species: The Guadeloupe Woodpecker Melanerpes herminieri
9 species endemic of the Lesser Antillean (included the woodpecker)
more than 200 species in photos on our website
list of the endemic species of LA in Guadeloupe and their range
---
The observers
| Rank | Observer | Guadeloupe | West Indies |
| --- | --- | --- | --- |
| 1 | Anthony Levesque | 247 | 425 |
| 2 | Frantz Delcroix | 226 | 358 |
| 3 | Eric Delcroix | 207 | 263 |
| 4 | Antoine Chabrolle | 191 | 271 |
| 5 | Jacky et Claude Froidefond | 169 | 215 |
| 6 | Alain Mathurin | 165 | - |
| 7 | Laurent Malglaive | 165 | - |
| 8 | Yasmine Levesque | 144 | - |
| 9 | Frédéric Portier | 134 | 145 |
| 10 | Vincent Lemoine | 124 | 167 |
| | | | |
Big Year
194 species recorded in 2014 (Anthony Levesque)

178 species recorded in 2014 (Antoine Chabrolle)

169species recorded in 2012 (Frantz Delcroix)

155 species recorded in 2012 (Eric Delcroix)
---
Big Day
91 species recorded by Anthony Levesque (20/09/14)

84 species recorded by Antoine Chabrolle (20/09/14)

81 species recorded by Frantz Delcroix (20/09/14)
RECORD JOURNALIER (Big Day)
91 espèces observées par Anthony Levesque (20/09/14)
84 observées par Antoine Chabrolle (20/09/14)
81 observées par Frantz Delcroix (20/09/14)